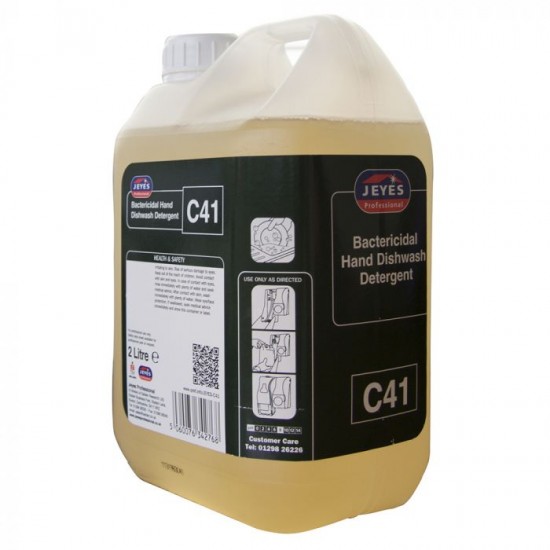 New
Jeyes C41 Super Concentrate Antibacterial Washing Up Liquid [2 x 2 Litre]
For Dilution Before Use: Dose 5ml per 10 Litre Sink
Anti Bacterial Washing Up Liquid - Kills germs & bacteria
Leaves crockery, utensils & glassware hygienically clean
High strength super concentrate for dilution before use
Domestic sinks: use 5ml per 10 litre sink (standard washing up bowl)
Commercial sinks: use 20ml per 40 litre sink (large commercial sink)
Fast acting on burn-on grease and grime
Ideal for pots, pans and utensils
Professional grade product
High strength super-concentrated, professional grade washing up liquid with anti-bacterial agent to sanitise plates, crockery, glassware and other washing up items. Kills germs and bacteria to leave your washing up hygienically clean and free from bacteria. pH neutral bactericide protects hands and prevents drying of skin. Fast acting on burnt-on grease and grime, ideal for cleaning pots, pans and utensils. This super-concentrated formula can be dosed at just 20ml per 40 litres of water. That's the equivalent of just 29p per wash.
This heavy-duty professional grade anti-bacterial washing up liquid is supplied as a super concentrated 2 litre formula, which is designed for use in the Jeyes Professional Super Concentrated Dosing Units. When used with the Jeyes dispenser, this super concentrated cleaner sanitiser can be diluted for up to 100 washes. Together, this complete chemical dispensing solution can deliver large savings for your catering & hospitality business.
Directions for Use:
For general washing up and anti-bacterial sanitisation, dispense via Jeyes Super Concentrated Dosing Unit. Apply one dose (20ml) to a sink of 40 litres of water (large commercial sink).

Info
Manufacturers Part No.
YC41S-2LX2-JEYES
Stock:

In Stock

Model:

C-CYC412/2SE

SKU:

YC41S-2LX2-JEYES

MPN:

YC41S-2LX2-JEYES

Selden