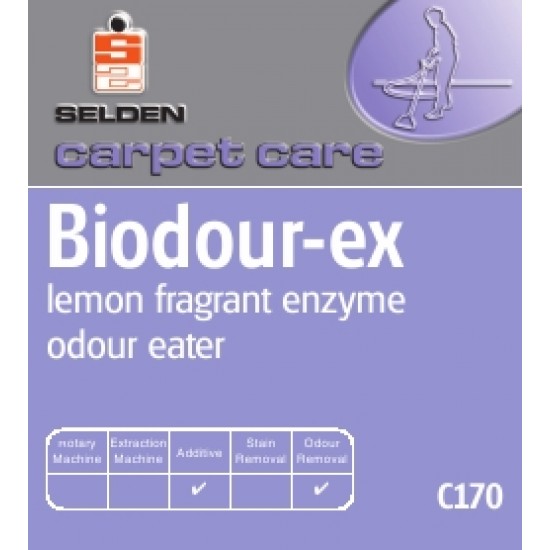 Biodour-ex Lemon Fragrant Enzyme Odour Eater 5 Litres
Description
Enzymatic action, natural and effective odour eliminator. Breaks down organic soiling and stains. Powerful citrus scent, immediate relief from foul smells. Ideal for washrooms and use on carpets. Safe for use on all types of absorbent surfaces.
application Suitable for use on a wide range of carpets, absorbent surfaces and fabrics. Biodour-ex may also be used in and around sanitary ware, drains, waste pipes and tiled surfaces to prevent unpleasant odours in the washroom and housekeeping environments.
directions Dilute 5 parts water to 1 part Biodour-ex and apply directly to the area of soiling and leave to work (do not rinse). Biodour-exs micro-organisms produce enzymes which immediately begin to digest the organic matter breaking down the stain and eliminating odour. The Biodour-ex strong citrus fragrance provides immediate relief from unpleasant odours until the biological action is complete. The biological action continues until the organic matter is completely consumed or until the area dries. Biodour-ex may by re-applied (in stronger concentration or neat) as required without any risk of over use. NB : This product is not to be used in conjunction with any disinfectants or sanitisers.
Model:

C-FC1705SE

SKU:

C-FC1705SE

MPN:

C-FC1705SE

Selden